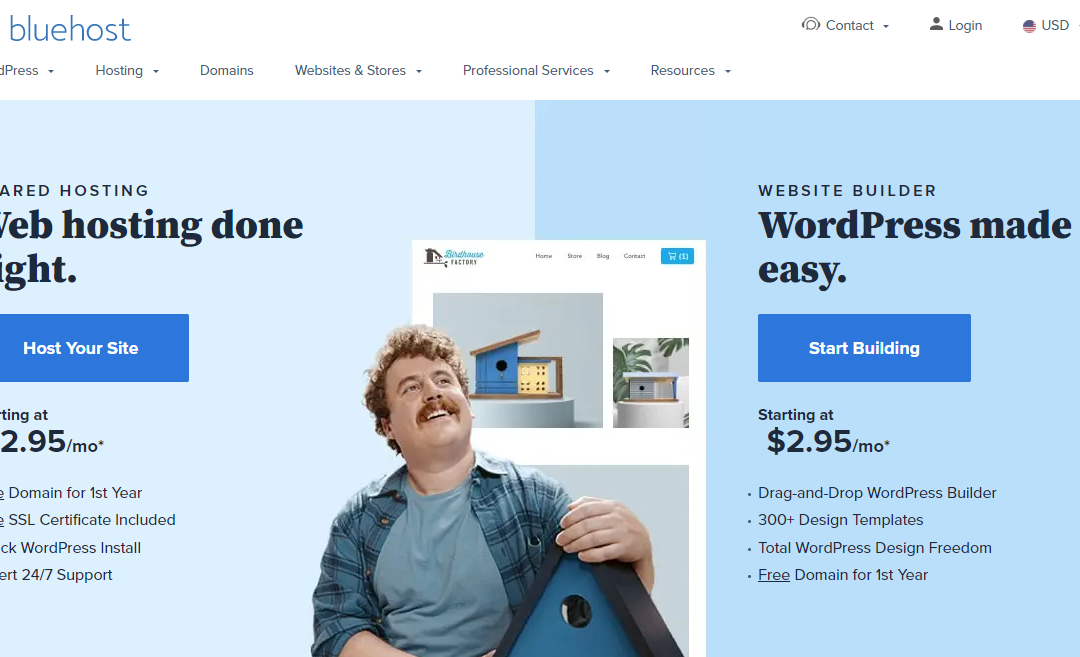 When it comes to reliable web hosting companies in the world, Bluehost comes top of the list. So check out our Bluehost review 2020 to know why.
Bluehost is one of the biggest web hosting companies in the world that offers a wide variety of hosting plans for beginners to larger businesses with 24/7 customer support. It's also an official WordPress recommended hosting provider.
In this post, we have compiled a detailed review to know if Bluehost is actually the best web hosting company for you to choose.
READ ALSO: Starting A Blog This Year? Things You Need To Know
Bluehost Review 2020
We'll be looking into 5 different aspects;
Performance: How fast it takes your website to load with Bluehost?
Reliability: Will your website be available 24/7 without any downtime?
Customer support: Can you rely on their technical support whenever you get into a jam with their hosting?
Features; Do they have all the features you need to build the website you want.
Pricing: Are their pricing relatively cheap compared to other web host providers and do they have discount deals that can save you money?
So let's get straight into it.
First, it will be a nice idea to know about this Bluehost company itself.
About Bluehost
Bluehost began in 1996. Years later, they gradually grew to become one of the largest web hosting companies in the world powering more than 2 million websites from all over the world.
Pros and Cons of Bluehost
As a popular adage says " What goes up, comes down".
In another sense, whatever has an advantage does also have a disadvantage. All web hosting companies have their pros and cons and Blue host isn't an exemption. .
Here are the pros and cons of Bluehost that we learned.
Pros
Awesome Pricing: Bluehost hosting plans are quite affordable, even to newbies who are starting their websites for the first time. .
Reliability: They power up to 2 million websites with minimum downtime.
No hidden charges: Once you've signed up for a hosting account, you're good to go. No hidden fees when signing up for your account.
Free domain: When you sign up for a hosting account, you get a free domain for 1 year.
Cons
Higher domain renewal price: Bluehost free domain renewal price is higher than average cost of domain renewal.
READ ALSO: 6 Best Cheap Online Shopping Sites You Need to Know. 
Bluehost Performance
The most important performance metric that you should look for in any hosting provider is the speed. If your website doesn't load fast, It really affects your site's user experience and SEO rankings..
Bluehost Server Response Time
With the Pingdom tool, you can test how everything i.e text and image in your live website loads. To get a more accurate server response time, another tool called Bitcatcha allows you to test server response time without loading any data.
Bluehost Hosting Plans and Features
Bluehost offers a wide variety of hosting plans for beginners to larger businesses. This includes shared hosting, VPS, dedicated server, cloud hosting, WooCommerce hosting, WordPress hosting, and more.
Below are Bluehost hosting plans and their features.
Shared hosting: Shared hosting is the great option to start a new website with low traffic volume. In this type of hosting, your website shares server resources with other websites.
Cloud hosting: This type of hosting allows you to use multiple cloud servers, allowing your website to automatically switch to a different server in case of a hardware failure or high traffic.
WordPress hosting: This is designed specifically for WordPress powered websites. It is optimized to run WordPress and can even protect your WordPress site against common threats.
WooCommerce hosting: If you want to start an online store, then WooCommerce is the most popular eCommerce plugin for WordPres. WooCommerce hosting offers you all the essential features to kick start your ecommerce store.
VPS (Virtual Private Server) hosting: VPS hosting allows you to virtual dedicated resources in a shared environment.
Dedicated server hosting: This means you will have all the resources of the server to yourself. The downside is that you will have to manage the server on your own.
All Bluehost hosting plans allow you to install WordPress with 1-click.
Also, all plans come with an easy to use hosting control panel where you can manage your hosting, create databases, etc.
Bluehost's Shared Hosting Plans
Bluehost shared plan is available in three different levels.
Let's take a look at what's included in each plan.
Basic: The basic plan only allows you to host one website. It hosts one domain and 25 subdomains, 50GB storage, 5 email accounts of 100 MB storage for each account. For the first term you'll pay $2.95 per month. When you renew the account, you'll have to pay $7.99 per month.
Plus: The Plus plan includes unlimited websites with unlimited web space and bandwidth. You'll also get unlimited email accounts. The price for the first term starts from $5.45 per month. When you renew the account, you'll have to pay $10.99 per month.
Prime: The Prime plan includes all features of plus plan. You will also get domain privacy and SiteBackup Pro as extras worth over $80/year. Prime also has the same first term price of Plus, $5.45 per month. When renewing, you'll have to pay $14.99 per month.
The Bluehost shared hosting plan is suitable for newbies who are just starting their websites. As your website grows, you can upgrade your hosting plan.
Bluehost Support and Customer Service
When you're in a jam with your hosting, you will need all the help you can get. That's why it's important to choose a web hosting company that offers help and support anytime and anywhere.
Bluehost has step by step guides, and video tutorials which are a huge help for beginners and most common issues can be quickly resolved by a simple search.
Yet, sometimes, guides and video tutorials may not be enough and you will need to talk to an individual to get more help.
Bluehost offers a 24/7 support system where you can talk to their customer support representatives using live chat or phone.
Yet, Bluehost doesn't have the ticket-based support system which they recently decided to remove so as to focus on the personal approach of live chat and phone-based support.
Conclusion: Is Bluehost the best choice?
This review has covered the pros and cons of using a Bluehost for your website..
If you make the choice of choosing Bluehost, then you can access the wide range of affordable hosting plans with multiple features to build your website, 24/7 customer support from knowledgeable staff and lots more.
So choose Bluehost today and you'll be glad you did.